A Zoom Birthday for Beethoven, and an interview with Jerzy Kaplanek
Beethoven was baptized on December 17, 1770 – 250 years ago this month. Before the pandemic changed everything for performing artists, musicians around the world, including Laurier's own Penderecki String Quartet (PSQ), were preparing to celebrate with a year of the Beethoven "cycle" – 16 quartet performances presented in six concerts.
Jerzy Kaplanek is an associate professor of violin in the Faculty of Music at Laurier, and a member of the PSQ. Nine months into the changes brought on by the pandemic response, Kaplanek is grateful to be rehearsing and performing live again, in a limited way – it's been a tough year.
At the beginning – during what he refers to as the "non-performing time," – Kaplanek thought he would soon be back to his regular schedule of practicing three to four hours a day, five days a week with PSQ members Jeremy Bell (violin), Katie Schlaikjer (cello) and Christine Vlajk (viola); teaching students; and performing in numerous concerts locally and internationally.
"As the weeks passed, it became very clear it was not going to change for a while," he says. "It was hard to stay motivated and to look forward to something that was just open-ended, it was tough to plan anything really, even now, there are so many more concerts being postponed."
He badly missed his fellow musicians and the connected experience of practicing and performing live.
"In a quartet," he says "We share the stage all the time. To have that empty space in our lives, after a couple of weeks, I was asking myself, what's happening?"
Kaplanek reflects that for ensemble musicians, restrictions are especially hard, because they are so used to playing together, rather than in solitude.
In June, some restrictions lifted and Kaplanek, Bell, Schlaikjer and Vlajk were able to start practicing together in person again, off-campus.
"It was a relief to go back to playing in person," says Kaplanek. "It was a really healing and amazing experience to be back with my colleagues in one room making music together again.
"Collaborating is what you do. Just hearing each other and being able to respond and interact was very meaningful. I felt so, so grateful for this opportunity!"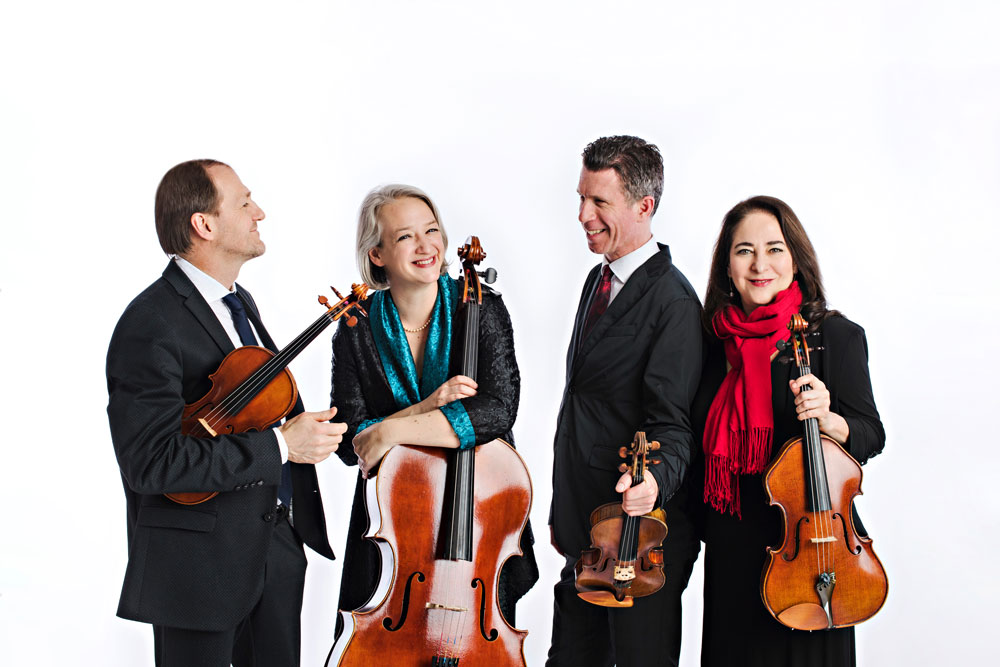 The Penderecki String Quartert (L to R:) Jerzy Kaplanek, Katie Schlaikjer, Jeremy Bell and Christine Vlajk.
The PSQ continued to enjoy the privilege of practicing together throughout the summer. They started producing recorded music in response to fan requests, and for the KW Chamber Music Society members. Many local groups were looking for alternative ways to share music, and the PSQ was eager to help out while reconnecting with each other musically. Though they weren't set up to play live online, they produced much recorded music.
When September came, the PSQ members, like some students and staff, were able to return to campus in limited ways. Kaplanek had a powerful experience returning to Laurier's Waterloo campus.
"Walking back into the Faculty of Music building was really emotional, to take out the instrument, just being in the room where we always see our students and colleagues," was very intense, he says. "Just to be there, and not see anyone around, just a couple of people here and there, it was truly moving."
One of the strangest things was to be in a building, normally filled with sound and music, become completely silent. One can only imagine how the PSQ felt when bows first touched strings and sound reverberated in the long quiet air, music returning to campus for the first time in months.
Since then, some students are back on campus practicing, with some faculty teaching out of their offices in limited ways, so the quartet does hear music being made again.
"It's really special and touching!" says Kaplanek.
Next came the return of the Thursday Noon Hour Concert Series, a long and beloved tradition which transitioned online this fall. The quartet also recorded a piece for the Faculty Showcase concert. Both pieces were performed and recorded in Maureen Forester Hall.
"To be back in a real concert hall was amazing," says Kaplanek. "One forgets what that is like. Even though the hall was empty, just being there and knowing we were recording it for an audience to enjoy it for a long time was great."
It was certainly a different experience, performing to that empty hall. The quartet had to "play to the mic" and project what the audience response might be, or, as Kaplanek puts it, "anticipate something that isn't present but needs to be there because performance is always very different than practice."
He finds that it's important for the musicians to connect within their performance group and project that energy into the audience that will later listen to the recording. It took the group some time to adapt, but as they continue to record performances, Kaplanek reflects on how meaningful it has been to connect this way with their audiences.
"Music has the power to heal and unify and it is so important to keep our spirit healthy, so we wanted to reach out and offer that gift," he says.
And the quartet has finally been able to restart their Beethoven cycle performances – the great composer is having his birthday celebration after all! The PSQ had presented the first two before the outbreak. The next four were presented under very different circumstances: a restricted gathering of no more than 50 people at the First United Church on William St presented by the KW Chamber Music Society (KWCMS), in October and November.
"We've played there a lot," says Kaplanek. "But it's usually 200 people at least. With 50 people, you can really see that it's so meaningful for everybody to be there. After hearing the reproduction of recorded sound, even with good speakers and audio system [for so many months], to be able to actually hear the live sound in the real acoustic, was something that we missed so much, and to be part of that experience, to communicate and play for our community felt very special.
"And the audiences are so enthusiastic!"
Those listeners have included community members, KWCMS regulars, and Laurier students. Kaplanek was thrilled to meet some of those students after the concert – because they were his students he'd been teaching online and not seen in person since March.
"That was incredible, everybody was so happy to say hi, talk and laugh, a very special moment!" he says.
Since the early-December publishing date of this article, Waterloo Region entered a lockdown due to the pandemic. To continue adhering to public health guidelines and regulations, the Faculty of Music organized an additional Music at Noon Concert on Thursday, Dec. 17 for the PSQ (the closest date we know to Beethoven's actual date of birth) that featured the group playing a pre-recorded monumental Beethoven quartet. The PSQ's February concert will also be virutal. Subscribe to the Faculty of Music's Youtube channel to watch it.
With concerts like these, musicians around the world has given Beethoven what most of us have had this year – a Zoom birthday!