Got an idea? Accelerate it
Laurier's student entrepreneurs drive positive change around the world
It takes a special kind of ambition to change the world for the better – and a lot of support. That's why Laurier, thanks to support from RBC Financial Group, offers a wide variety of programming to encourage the development of student leadership, innovation and entrepreneurial skills, so that our students can go on to build successful ventures and stimulate positive change from the local to the global scale.

RBC Financial Group supports three programs at the Schlegel Centre for Entrepreneurship & Social Innovation: the RBC Ambassadors Program, the RBC Entrepreneurial Experience Program (for applicants who have entrepreneurial aspirations but aren't startup ready) and the RBC Entrepreneurial Accelerator Program. These programs are available to all undergraduate students at Laurier, regardless of program or campus.
In practice, the RBC Entrepreneurial Accelerator Program directly supports student entrepreneurs through:
Networking opportunities: student entrepreneurs are connected with a community of specialized volunteer alumni and community mentors who provide expert advice and guidance. Every year, mentors in this program provide over a hundred hours of guidance.
Workshops and speaker sessions: student entrepreneurs have access to a strong base of business fundamentals programming such as workshops with subject experts, and exclusive speaker sessions with experienced entrepreneurs.
Direct funding: this funding allows student entrepreneurs to devote a co-op term to growing their own company, while making use of the other resources available through the Schlegel Centre 
With gratitude for our enriching partnership with donors like RBC Financial Group, Laurier is proud of the over 2000 companies that have been launched by our students and alumni. In an era of global upheaval, we are especially honoured to support student-entrepreneurs who are already making a positive impact with their work.
EarthSuds 
Thanks to RBC Financial Group's support, Business Administration student Marissa Vettoretti was able to make her vision of a better, more sustainable world a reality. The result is EarthSuds, a company that produces and distributes dissolvable, single-use toiletries such as shampoo, conditioner and body wash tablets. The packaging of these products is completely compostable or recyclable, and eliminates the need for plastic toiletry bottles. Supported by the Enactus Laurier team and the RBC Entrepreneurial Accelerator program, Vettoretti and EarthSuds co-founder Daniel Moll enhanced a product prototype, secured funding, and built relationships in the hotel industry. Today, EarthSuds boasts first place at the Enactus Canada National Exposition in May 2019, where Vettoretti was also awarded the HSBC Women in Leadership Award, first place at the Queen's Entrepreneurs' Competition and at the Ivey HBA Business Plan Competition at Western University in January 2020, and second place at the 2020 Enactus World Cup Competition in September, against 32 other teams and 72,000 participants. Earthsuds is also the only Canadian team named as a finalist for National Geographic's Ocean Plastic Innovation Challenge.
Bikinis by Bridget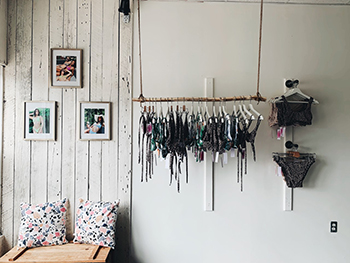 Bridget McCluckie's venture, Bikinis by Bridget, aims to embrace the diverse beauty of women around the world, promoting body positivity and confidence with the idea that every body is a bikini body – and every woman deserves comfortable, high-quality swimwear that makes them feel good. "Instead of living in the past," says McCluckie, "we have to look towards the future and how we build and grow from those experiences and turn them into success." McCluckie was accepted into the RBC Entrepreneurship Accelerator Program in the fall of 2019. "I was very grateful to be part of it," she says. "I gained lots of experience and it has opened a lot of opportunities." McCLuckie took the opportunity to grow Bikinis by Bridget over a semester, increased her inventory in order to scale her business, and forged a partnership with a manufacturer in Mexico to produce her swimwear designs. In the summer of 2020, McCluckie and her sister opened a successful storefront location in cottage country.
AMZ Prep Canada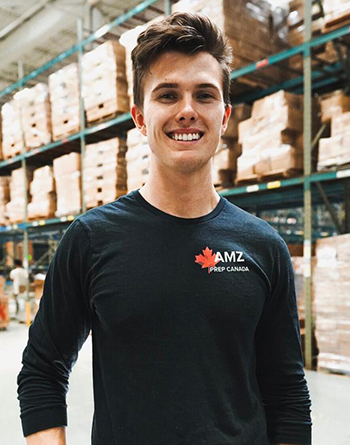 Laurier student Blair Forrest has received many accolades for AMZ Prep Canada, a venture that helps small businesses utilize the Amazon Marketplace and develop a fulfillment system using Amazon and other distribution partners. At a time when fulfillment of online orders is an absolute necessity for small businesses, AMZ Prep Canada's mission to empower the next generation of entrepreneurial leaders is helping small businesses grow and thrive. AMZ Prep provides warehouse space and expert knowledge of distributor packaging requirements, making it easy for small businesses to sell to any market. In June of 2020, Forrest was named 2020 Student Entrepreneur National Champion by Enactus Canada and HSBC Canada.

Thanks to RBC Financial Group, Laurier's Schlegel Centre for Entrepreneurship & Social Innovation continues to provide financial and experiential support to the student ventures that enact positive change on global scale.