A legacy for leadership
"I live by this quote: The more you profess gratitude, the more you notice things to be grateful for!" says Selena Tansella, a second-year Psychology student and member of the Laurier Varsity Women's Soccer team.
"I'm a grateful student-athlete who recently received the Don and Lillian Honey Memorial Athletic Bursary," she says.
Set up through a will bequest, this bursary is presented every year to varsity student-athletes who demonstrate leadership skills and team sportsmanship.
"This bursary has shown me that hard work pays off, that the Laurier community is there for me, and it has encouraged me to be a leader on and off the soccer field!"
Tansella wants Laurier alumni and friends to know that they too can inspire generations of grateful Laurier students like her by making a gift to Laurier in their will. Donor support for students is particularly important in challenging times like these, says Tansella.
"Last summer, it was very difficult for many students to get jobs, given the circumstances. Paying for tuition, textbooks and necessities can be difficult, especially when living away from home," she says. "I'm so grateful to Laurier donors who stick with us through these tough times. It really does help students and their families a lot, financially and personally."
Tansella acknowledges that for many athletes like herself, it's a struggle to focus on academics, school and sport. A typical spring or fall day (pre-pandemic) in her life included an early-morning breakfast followed by one or two classes, then soccer practice and another class right after. In the evenings, she studied, and then tried to get a good night's rest for the following day.
"Winter days are still pretty busy!" says Tansella. "A few days a week, we are in the gym between 7 and 8 a.m. with our strength and conditioning coach, or at a 6 a.m. practice. At the end of the day, I went to bed exhausted. You can see how it's a challenge to fit in part-time work with a schedule like that."
A couple of Tansella's teammates also received awards and they shared how much these awards changed their lives too.
"I'm a second-year student who pays for all of my own tuition, rent and books by myself. It's a lot of pressure," says Lila. "My life was very chaotic balancing school, practice and games, so when I received an award, things got a lot less stressful. I was able to focus on getting into great shape in the pre-season, while staying on top of my academics. The award also made me feel really valued."
Their team captain, Erin, is in third year. Being captain comes with additional responsibilities that make it even more challenging to work during the school year.
"Receiving a scholarship allowed my family and I to experience some financial relief," says Erin. "It also enabled me to properly prepare academically and athletically for the transition to Laurier as I had a smaller financial burden. The recognition from the coaches and donors has motivated me to become a better player, teammate, leader, and student while at university."
"As you can see, donor support really helps varsity student-athletes and their families," says Tansella. "Donors are helping us focus on doing our best academically and on the field, and most importantly, staying healthy."
Tansella has another saying: nothing worth having comes easy.
"It's true in athletics, in academics and in life. You have to work hard and be patient," says Tansella. "That's what leadership is to me, and receiving this bursary tells me I'm heading in the right direction."
Tansella grew up in a small town, and she came to Laurier for the school spirit. She loves Laurier's "tight-knit, welcoming community, where everyone works together and gives back."
"I think there are so many ways to give in life," she says. "You can give a compliment, you can help around the house, you can give back to your community through volunteering."
But an award set up through a legacy gift, she says, makes a really lasting impact in the life of a student.
"When a student receives an award, they think, 'Wow! This is what I was able to do, and I'm being recognized and supported for it!'" she says. "Our amazing donors should feel great about giving students that kind of feeling. It's really special."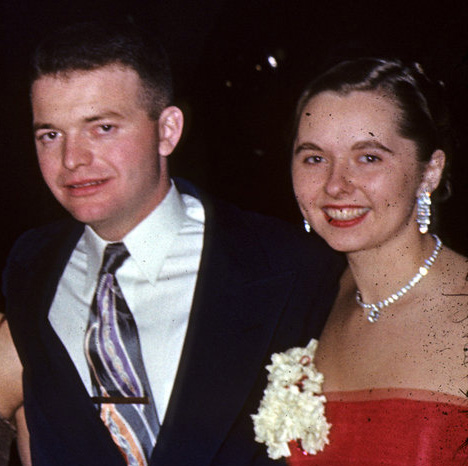 Don & Lillian Honey at their Waterloo College Junior Prom