Courageous people with a noble endeavour: Guy Milner (MSW 91) shares his fight for the vulnerable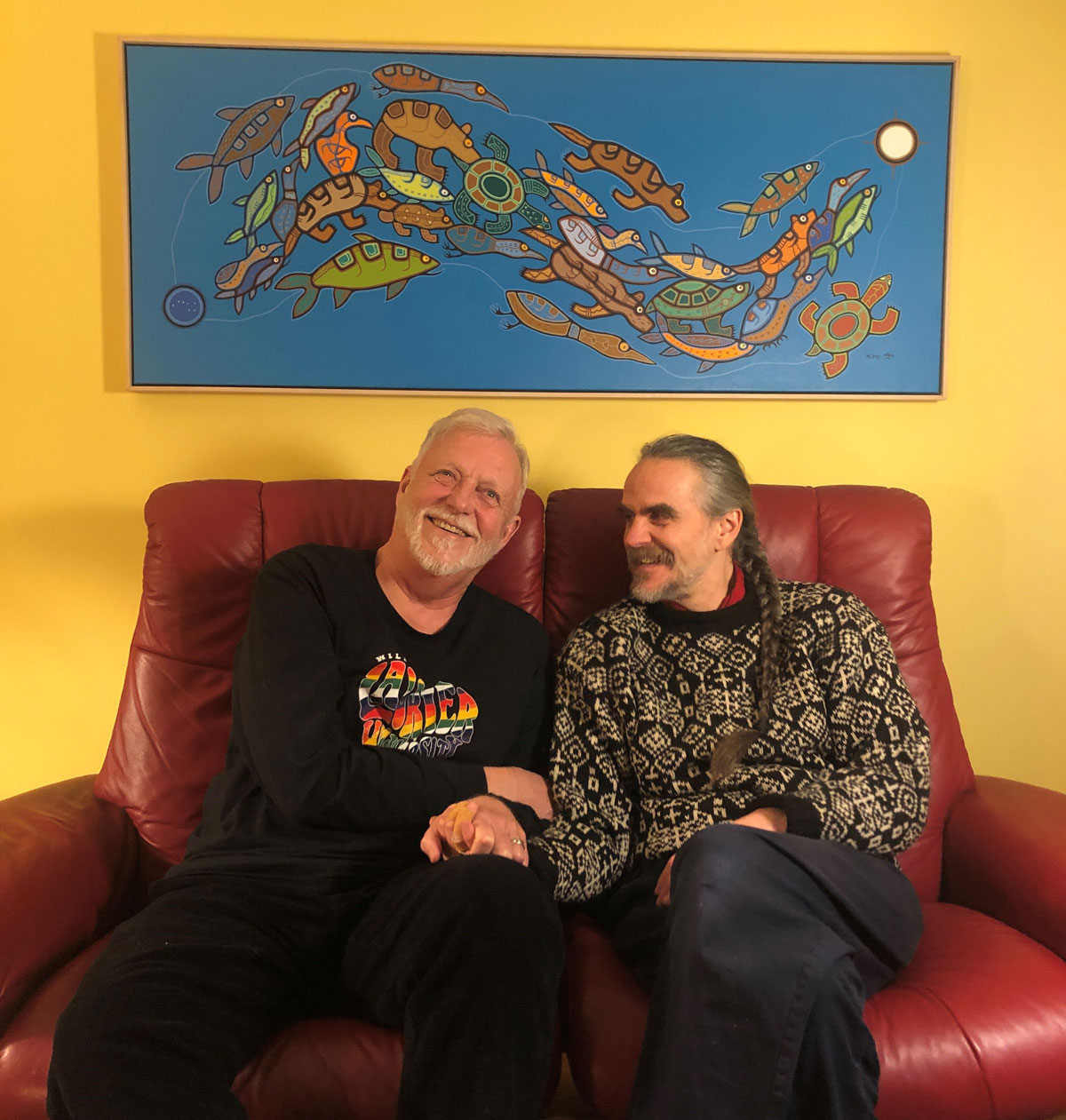 Guy Milner (left) with husband Roger Helfrick and donated artwork Spiritual Guides.
"I wanted to give back to Laurier as a thank you to Shankar Yelaja, dean of Social Work during my years there, for his support," says Wilfrid Laurier University alumnus Guy Milner (MSW '91). "He had a profound and abiding interest in helping his students be the best they could be. Each of us had different needs and he was able to see where we needed help and give it."
The same could be said about Milner, now retired after a long career supporting refugees and people living with HIV. During a lifetime of dedicated service, Milner worked to advocate for the acceptance, care and support of people whom others ignored or actively shunned. He has drawn on his fierce energy, well-honed problem-solving skills and deep kindness and compassion.
From an early age, Milner knew he wanted to serve others and "make the world a more beautiful place." After entering post-secondary education, he struggled to make sense of his sexuality and his career path. Taking a gap year before finishing his undergrad degree, Milner travelled to Malaysia with Canada World Youth and became passionate about working to alleviate poverty. When he returned to Canada, he joined the charity Development and Peace as a volunteer and earned a BA in Economics and Religious Studies at the University of Alberta, graduating in 1974.
Next, through World University Service of Canada (WUSC), Milner became a United Nations volunteer serving in the United Republic of Tanzania. He came home to Alberta two years later, working with Immigration, Refugees and Citizenship Canada (formerly the Department of Employment and Immigration) to help welcome some of the 60,000 Vietnamese people seeking refuge in Canada at the time.
In his personal life, Milner had a long-term relationship during those years, but professionally he had to hide his sexual orientation because of homophobic Canadian federal government policies. At the time, a person could be fired from their government job if it was discovered they were gay or lesbian.
In the late 1980s, when he was 37 years old, Milner decided to make a significant life change, both professionally and personally.
"Working with refugees was powerful and meaningful work, but I was trapped in a big bureaucracy that didn't allow me to be who I was," says Milner. "I had a mid-life crisis." He was also being affected by "the AIDS crisis" in the gay community and wanted to be part of the fight.
"I wanted to help out my buddies," recalls Milner. "I wanted to be a part of this story using my skills as a good listener and problem solver. I wanted out of my closet."
Milner became a volunteer with AIDS Network Edmonton in 1986, when the issue "kind of exploded onto the public health scene in Canada," he says.
In 1989, Milner enrolled in the Master of Social Work program at Laurier. His research project was titled "HIV Issues That Affect Gay Male Couples."
"It was about daily loving, caring, and communication," says Milner. "A dedication always echoing through the universe."
He praises Laurier's Faculty of Social work professors and library for supporting his work. "Even though my professors didn't know much about HIV, and the library did not have much material on it, everyone was totally supportive of the work and study I wanted to do," says Milner.
He says he also had meaningful experiences engaging in social action with his fellow Faculty of Social Work students and preparing himself to re-enter the workforce with support from Career Services at Laurier.
"They helped me write a good resume, but more importantly taught me how to talk about myself, to sell myself, in a job interview," he says. "That was something I had never learned. They really helped me make the transition to the 'real world.'"
On a personal level, as his degree neared its end, his relationship was also ending, and a counsellor with Health and Wellness at Laurier helped him cope with his feelings while staying on top of his work. Not having his family or friends around, this meant a great deal to Milner.
After graduating, Milner dove full-time into the fight for care and acceptance of people living with HIV. He was hired as the first social worker on a team which was setting up an outpatient clinic in Calgary. The team found it hard to find medical service providers to work at the clinic, as well as timely access to income and disability support and housing for their clients. It took all of Milner's skills as a problem solver, fighter and educator to work in this context.
"In the early years of our patient care, we were warriors," says Milner. Fear and prejudice led to many medical and social practitioners shunning HIV patients. Sometimes, there would be just one practitioner in an entire city who would help serve a particular need such as dentistry, psychiatry, or ophthalmology. Over the following two decades, Milner and his colleagues were able to fight for and offer patients a full suite of care - not without a toll on their own health, but with a sense of love, accomplishment and fellowship.
"We were a team of courageous people with a noble endeavour – we were willing to do what was necessary to care for our clients," says Milner. The HIV Care Team also used humour to cope. "We persevered, accomplished a lot and shared daily hearty laughs," says Milner. "In the face of death, you learned to smile at adversity."
Milner was also part of the team that ensured that every baby born to an HIV-infected mother in Calgary was born free of the virus. The mothers were primarily from camps in sub-Saharan East Africa, as Canada was one of a few countries admitting HIV-positive refugee mothers at that time.
The toll his work took on Milner was eased when he met his husband, Roger Helfrick, in 1994 (they were married in the fall of 2022). Milner says he derives nourishment and energy from Helfrick's creativity, cooking skills and their love and companionship.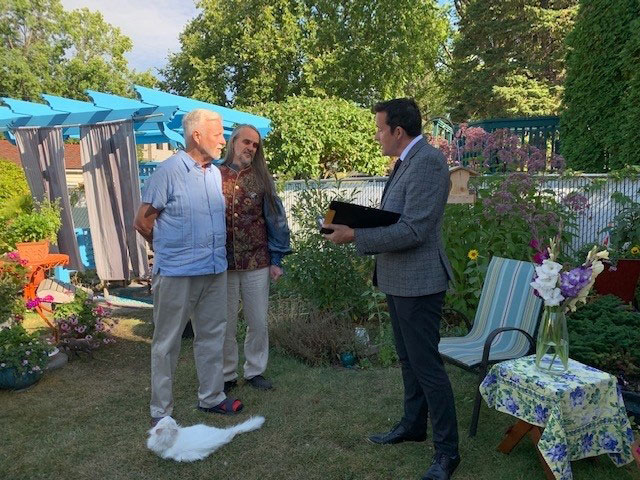 Despite Helfrick's support and Milner's own self-care practices (one included keeping thank you cards and memorial cards from patients and their loved ones - he has around a hundred), in 1998 Milner decided to take a break. He was physically exhausted, with no more to give.
"After years of burying people, it really grinds your soul down," says Milner. He has a deep empathy for frontline workers responding to COVID-19.
"I know in my heart how god-awful it is," he says. "People dying even when you do your best. It's a lesson in humility."
Milner took a sabbatical. When he returned to his career a year later, he was renewed and the world was changing.
"My leaving on sabbatical coincided with the discovery of a combination of three drugs that could, working together, arrest HIV advance," says Milner. "When I left the clinic, I said goodbye to a good 50 to 60 people I assumed I would never see again." When Milner came back, they were all still alive.
"It was a huge surprise and a big celebration," he says. In the nearly 20 years that Milner and his colleagues focused on advocating for their clients in the health care system, the world beyond their community was changing, too. Scientific experimentation and discovery yielded medication and treatment options, while activism helped reduce stigma. The quality of life and life expectancy of people living with HIV increased. Social work for patients went from palliative care to helping people live full and healthy lives. But the advances came too late for the nearly 40,000 people who died of HIV-related infections in Canada during that time, including hundreds of Milner's clients.
"Medical students that I volunteer with now in my retirement sometimes ask me why there are 'no elderly gay people,'" says Milner. "They don't realize that many of a generation were lost."
In the second half of Milner's career, after his return from sabbatical, HIV began to spread to a new community: individuals who shared needles, many of them unhoused. Milner dove into the work of advocating for these individuals, who were often uncomfortable within the health care system and for whom different prejudices created different barriers. Milner continued to do what he does best: creative problem-solving to help people based on their individual needs.
Milner also moved into working with the Canadian Social Work Association at the national level, helping write A Comprehensive Guide for the Care of Persons with HIV Disease, the first Canadian handbook on HIV care. He contributed a chapter on palliative care and at the end, a personal reflection on his experiences in the field.
"In my reflection, I wrote that as practitioners and caregivers we have to connect and talk about the stuff that is hurting us," says Milner. "When you're crying inside about someone dying, you need to reach out and talk to someone about it."
After almost two decades in this field of work, Milner felt "spent" and decided it was time to retire. In late 2007 he moved with Helfrick to Vancouver Island to live in a co-housing community, but they soon realized they missed the arts scene and sunny weather in Alberta. They moved back home to Milner's birthplace, Edmonton, in 2018, and found a beautiful old house with a big yard, where Milner pursues his passion for gardening. Helfrick shares this passion, but with a particular interest in fruit trees and unusual vegetables.
"In retirement, I found gardening as an outlet to express my appreciation of beauty," says Milner.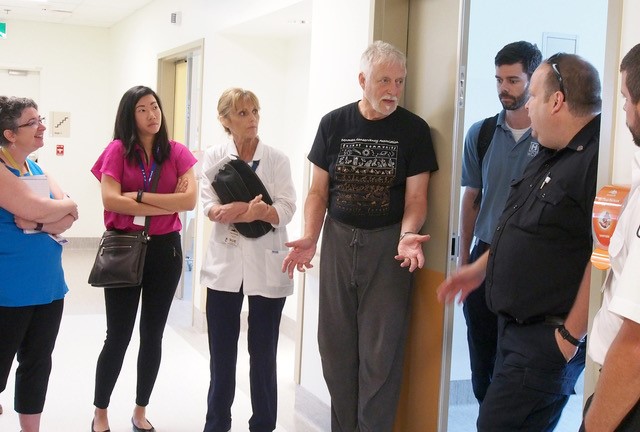 Milner continues to engage in a role that supports health and community. When he lived in BC, Milner volunteered on the Patient Advisory Committee for building new hospitals in Comox and Campbell River. Currently, he volunteers with the Faculty of Medicine and Dentistry at the University of Alberta's Standardized Patient Program, as well as sharing his life journey as a gay man with medical students learning how to offer care. He admits he delights in seeing the shocked look on some of the young students' faces as they listen to an older adult be so open about his sexuality.
Reflecting on a lifetime of service, Milner focuses on those whose service allowed him to thrive and what he can do to continue to give back.
"I am in the first generation of retired, out, comfortable gay and lesbians in society," says Milner. "Our country and our society have made it easier for us to have satisfactory careers and live as equals. We have many reasons to give back because a lot of our predecessors worked long and hard to make our human and civil rights possible. We are called to say thank you." 
For Milner, saying thank you means helping the next generation of 2SLGBTQQIA+ individuals. "They have their own stories and battles," he says. "Roger and I want to make their education a bit easier, so that maybe the rest of their working lives will be a bit easier. I remember how hard it was to survive as a student, I remember what it was to be poor, and I want to help others."
In appreciation of former Faculty of Social Work Dean Yelaja and the support Milner received from Laurier staff and faculty, Milner and Helfrick will establish the Milner Helfrick Award in Social Work. The award will financially support graduate students in the Faculty who demonstrate financial need, extra-curricular involvement and/or volunteer work at Laurier or in their communities, and self-identify as members of a protected group on the basis of gender identity, gender expression, sexual identity and/or sexual orientation. The award will be endowed through a bequest in their will, and will exist in perpetuity.
Milner and Helfrick have also donated a giclee copy of Spiritual Guides (2007), a painting by Indigenous artist Roy Thomas, with the original painting bequeathed to Laurier in their will. The giclee, which hangs in the Faculty of Social Work, in part features an image of a tortoise, a symbol of healers, which Milner feels speaks to the work social workers do. Milner says he is also inspired by the work Laurier is doing in service of reconciliation by providing an Indigenous Field of Study through the Master of Social Work program.
He also plans to work in his home community to advocate for philanthropic giving, in particular legacy giving, within the senior 2SLGBTQQIA+ community.
When asked what he would say to the recipients of his award, Milner says:
"I marvel at how the world has changed and opened up. The bigotry and close-mindedness of many still baffles me and indeed increasingly frightens me. It still doesn't seem safe, but we are being called to take on this challenge, lovingly and with courage and kindness. It is my hope that this bursary in some small way makes it possible for you to continue your studies with less worry, freeing you to focus on what is more important in life ... to be of service ... with kindness and generosity. Indeed, with great courage!"
If you are interested in making a bequest to Laurier, please contact Cec Joyal, Development Officer, Individual & Legacy Giving, Advancement and External Relations, 519-884-0710 ext. 3864 | (c) 519.498.4168 | cjoyal@wlu.ca