A happy din in the home of the best business education in Canada
It's a busy morning at Laurier, and classes are changing at Lazaridis Hall.
Conversation and activity fill the bright four-storey atrium, noise bouncing off its dramatic glass arc roof, and around its towering bamboo grove, modular furniture and overlooking glassed-in study-room balconies. Students are moving towards their next class in active learning classrooms throughout the building; some are laughing and chatting, others serious and focused. Some are studying, alone or in groups, on the comfortable couches or at Byte 75 and the Bob Astley Café Lounge, the high-windowed café which looks out onto busy University Avenue. Many are seated at the ever-present clubs booths lining the south wall. Behind them, still others are hard at work in clubs and program offices. And upstairs, in quieter corners of the building, more students, plus faculty, graduate students and staff are in their offices and labs, working with great concentration on innovative solutions to complex business problems.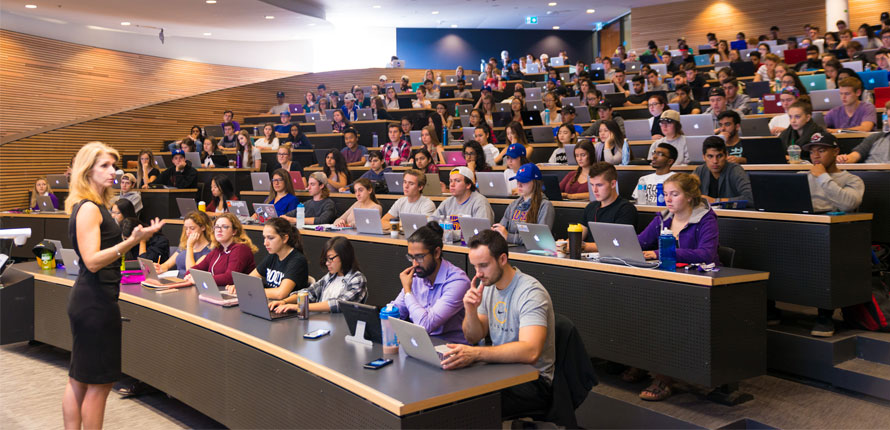 Although most days are busy, some are a little more so. Days like convocation, where hundreds of Waterloo campus graduates from all programs – and their loved ones – set Lazaridis Hall abuzz as they walk across the stage in the auditorium where 300 seats have been named by generous donors, many of whom walked across that same stage. Or during case competitions, during which students excitedly pitch their ideas to representatives of major global corporations who donate time, resources and talent to build the next generation of business leaders. During co-op interview season, the purposeful energy of a new suit animates young students embarking on the first step of their careers, backed by the support of scholarships both academic and entrepreneurial. Sometimes a conference, often donor-supported, brings partners and colleagues from all over the globe to the atrium to advance the knowledge that is shaping Canada's economic ecosystem.
And sometimes a gift announcement is happening. A special donor is being celebrated for their deep commitment to the students and faculty of the Lazaridis School of Business & Economics. The voices of Lazaridis School leadership raised in gratitude blend seamlessly into the happy din of students who are experiencing the best in business education in Canada.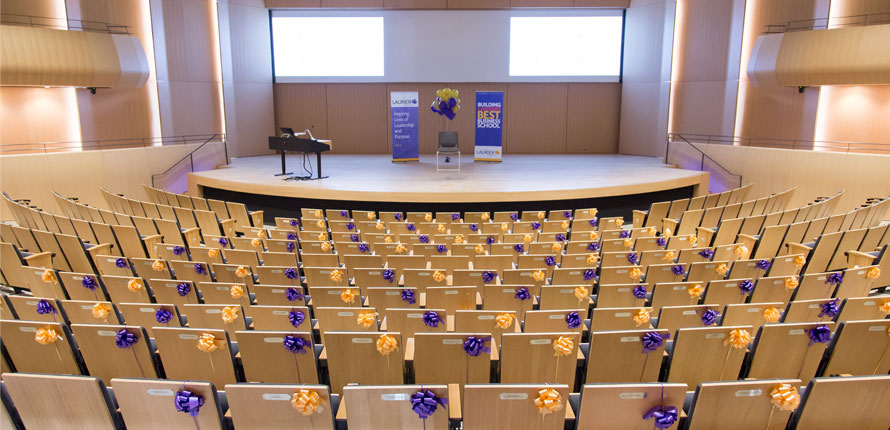 In June 2011, Laurier's School of Business & Economics and Mathematics program got a vote of confidence from the Government of Ontario with a commitment of $72.6 million to build a new space to provide cutting-edge business and entrepreneurship education and help advance economic prosperity in Canada. Building Canada's Best Business School, a major capital campaign, was launched and many generous alumni and partners jumped in to turn the vision into reality.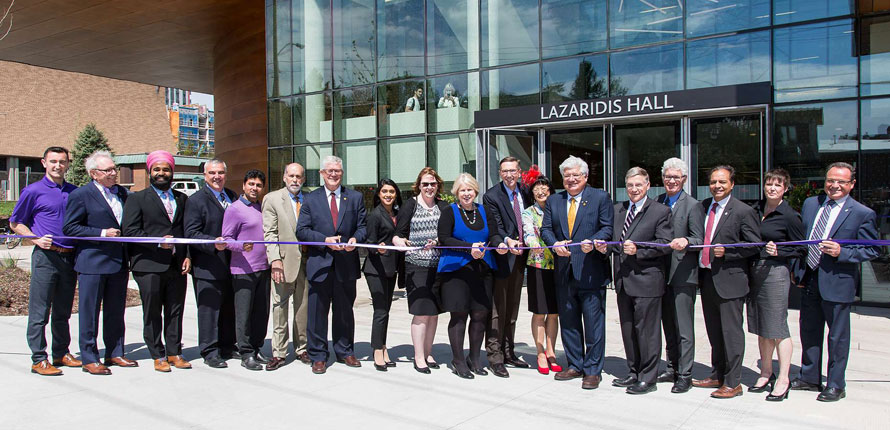 By 2016, when the building opened, alumni and friends of the university had donated an incredible $45 million towards the campaign. Every donor made a difference, and one visionary donor in particular showed a generosity best recognized by the naming of the school and the building. In April 2015, technology entrepreneur and philanthropist Mike Lazaridis pledged $20 million to create the Lazaridis Institute for the Management of Technology Enterprises, and $5 million to support construction of new facility. In the opening ceremonies for the building, Mike's deep and forward-looking generosity was recognized by the naming of the Lazaridis School of Business & Economics, housed in the beautiful new Lazaridis Hall.
A Gift that Honoured the Past and Built the Future
During the Building Canada's Best Business School campaign, the Class of '66 – the first official graduating class of the Lazaridis School of Business & Economics – demonstrated extraordinary leadership, committing to an ambitious goal to raise donations for the Lazaridis School.
Championed by alumni John Schram and Joe Watson, many alumni and friends joined together to be part of this historic campaign. In recognition of this support, the Class of '66 Terrace is named in their honour.