Leading the field in music therapy
An individual recovering from trauma gets in touch with their emotions, expressing them in a safe and healing space. A person living with dementia finds non-verbal ways to connect. A young person learns how to make a playlist on their phone with songs that help balance their moods. A terminally ill person finds their last days or moments filled with music. An autistic child discovers meaningful ways to participate in the world around them.
Music therapy is a burgeoning field and Laurier is at the forefront.
Laurier established one of Canada's first undergraduate music therapy programs in 1986 and added a graduate program in 2002. Supported by donors like Canada Gives, the program offers theoretical and practical training, and integrates the disciplines of psychology, music and community development.
The Manfred and Penny Conrad Institute for Music Therapy Research (CIMTR) was named in 2009 in recognition of a generous gift of $1 million from the Conrads to support innovative research in the area of music therapy and to recognize an outstanding graduate student in the music therapy program with an annual scholarship. The CIMTR is a dynamic forum bridging clinical practice and research, bringing together undergraduate, graduate and postgraduate students, professionals and researchers in music therapy and allied disciplines for a wide variety of research and educational initiatives.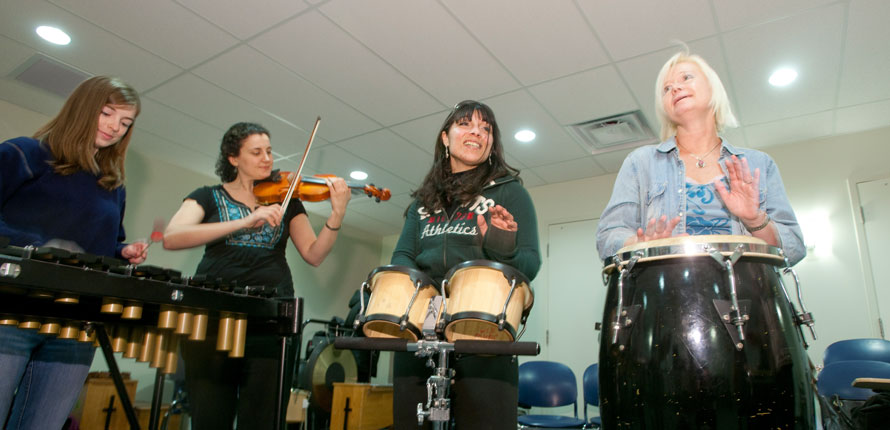 One special project is the first Music Therapist-in-Residence position at Laurier, in partnership with Homewood Health Centre. This partnership brings together Laurier's renowned Music Therapy program with Homewood Health's 134 years leading clinical experience in mental health and addiction. The Music Therapist-in-Residence position is made possible by the generous donation of $225,000 by Bryce and Nancy (Sauder McLennan) Walker. In 2017, Elizabeth Mitchell, who has a long-standing relationship with Laurier, became the first music therapist to take on this residency. She supervises undergraduate and graduate student placements, provides clinical services at Homewood Health Centre and instructs courses on Laurier's Waterloo campus. Mitchell will also partner to conduct research at the Homewood Research Institute.
"This is such an innovative position," says Mitchell. "I'm thrilled for the opportunity to work clinically with clients at Homewood and, in turn, have that clinical practice inform the teaching of Laurier students as well as associated research."
Mitchell's work is making a direct impact on the clients at Homewood Health Centre, and also on Laurier students training to become the next generation of music therapists. The Music Therapist-in-Residence position, is a wonderful example of high-impact philanthropy that supports creative solutions to complex issues in vulnerable populations.
"I had a major breakthrough during a group session. [Music therapy] allowed me to discover spontaneity, which in turn opened me up to my own emotions and allowed me to find a way to express them."
– Post Traumatic Stress Recovery client, Homewood Health Centre