Let's talk about Supply Chain Management
The first rule of supply chain management is that you talk about supply chain management.
Because in the past, no one did.
Supply chain management (SCM) is based on two ideas: one, that everything we buy comes from a complex web of organizations working together (the supply chain) and two, that this chain can be managed. SCM examines the flow of physical objects and information through these systems with the goal of improving quality and decreasing costs.
Traditionally, organizations looking to improve simply looked at what was happening within their own factories and offices. It's only very recently that academics and industry professionals have begun to talk about SCM. The Lazaridis School is on the leading edge of this conversation, thanks in large part to two strong industry partnerships.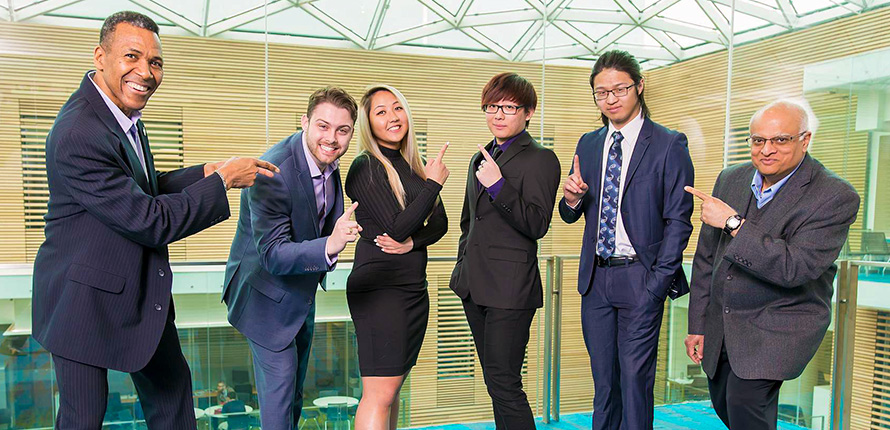 With a gift of $500,000, CN is supporting SCM research and education at the Lazaridis School, in particular through the CN Fellowship in Supply Chain Management. This position, held with great vision and leadership by professor Michael Haughton, has allowed the Supply Chain area to develop new research, build new curricula and collaborate with industry. The third annual World Class Supply Chain Summit, co-hosted by CN and the Lazaridis School, was a highlight of 2018 in the SCM community, with attendance by over 120 delegates from academia, industry and the public sector.
Shervin Espahbod says receiving a scholarship was a game changer for his academic life. "I have a new baby and I was looking for a part-time job when I heard the news," he said. The second-year PhD student in Operations and Supply Chain Management is now able to focus on how shippers and brokers in the trucking industry negotiate on the spot market – one-off rates, as opposed to contracts. He's joined by Sara Babaee in receiving the CN Graduate Scholarship in Supply Chain Management and the Maritime-Ontario Freight Lines Ltd. Scholarship. Sara is working toward reducing waste during the transportation of food and agricultural products. For her, too, the scholarship means financial security. "Once you have enough money, you can focus on other things," she said. "I checked my bank account before I found out I won. I was so surprised by the generous amount that I called the school to ask if it was a dream." It was real and today Sara spends more time with her husband on weekends and feels more productive at school during the week.
The Graham Munro Charitable Foundation is also supporting the next generation of SCM experts at Laurier with their gift of $500,000. The gifts supports the named role of Maritime-Ontario Freight Lines Ltd Director of Laurier's Einwechter Centre for Supply Chain Management. This role will foster awareness of the supply chain management profession among students and build strong, mutually beneficial relationships with industry to support teaching excellence and research. The gift will also support scholarships and the Lazaridis Supply Chain Association, a new student association that provides its members with experiential learning opportunities, applied research projects at industry companies, and connections to professional associations.