Laurier Brantford YMCA
YMCA Brantford: A hub of activity, community and health for generations to come.
A bright, sparkling, fully accessible pool. A state-of-the-art fitness centre. Child care. Community space. An airy gymnasium with purple bleachers and the Laurier Golden Hawks Logo at centre court. And a prime location for student space with a view of Harmony Square. The opening of the new Laurier Brantford YMCA in fall 2018 marked the dawn of a new era for athletics and recreation at Laurier in Brantford.
This partnership between Wilfrid Laurier University and the YMCA of Hamilton Burlington Brantford is the first between a YMCA and a university in Canada. The facility serves the diverse needs of the growing student population and local community in downtown Brantford and will strengthen the economic, social, and cultural program offerings in the city.
The first numbers in from the new facility show how it has transformed the Laurier student experience: more than half of students in Brantford have used the YMCA recreation complex.
The 120,000 square-foot facility is nestled on the hill between Colborne Street and Water Street and has already become a hub of community activity, helping to bolster the revitalization of the city's core.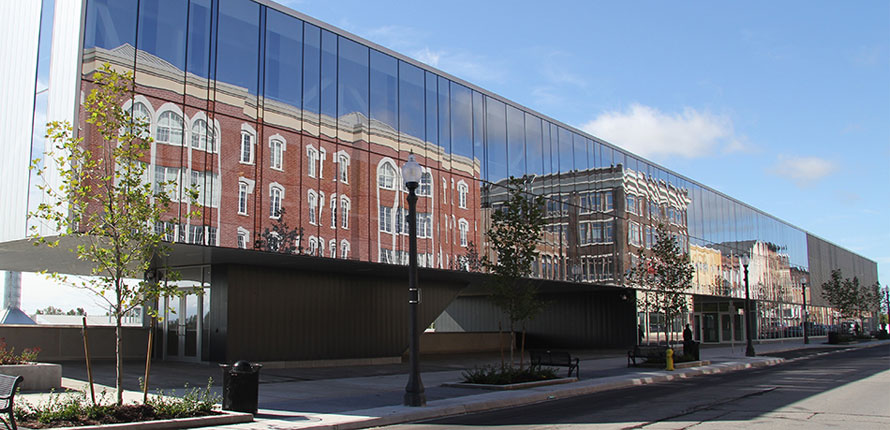 The Laurier partnership will showcase university campus life to YMCA users of all types. Because of the YMCA's policy of making its facilities available to all— regardless of ability to pay— the new facility is universally accessible. Serving all segments of the city including children and youth, seniors, persons with disabilities, newcomers and families from low-income households, everyone from the city's diverse population can feel they belong.
For Laurier students, the facility fills a gap that has existed since the Brantford campus opened almost 20 years ago. Now, both recreational and varsity athletes have a permanent home – with the purple and gold décor to go with it!
Unearthing Brantford's Past
The shoe is amazingly intact, especially given its age. Buried for likely one hundred or more years, this relic belies the craftsmanship of its original maker. The shoe is but one of nearly 400,000 artifacts unearthed during the archaeological-discovery phase of the Laurier Brantford YMCA building project.