Making Space for Music
Music is inseparable from the space in which it is performed, and music with a vision lives most powerfully in a space that reflects that vision. Music at Laurier – a world-class, diverse, inclusive, music built on immersive learning, caring relationships and engagement with the wider community – requires a building that welcomes everyone in.
With your help, we are going to renovate and expand our current music building, transforming it into a vastly-improved space for teaching, practising, rehearsing and performing. Together, we can breathe more life and space into this special learning environment for music, making it a hub for students, faculty, alumni and members of the musical community in Waterloo Region and beyond.
Launching the Making Space for Music campaign
Laurier Music supporters gathered at a special gala on May 14, 2019. Guests enjoyed dinner in the spectacular Lazaridis Hall atrium on Waterloo campus, followed by a concert featuring four-time Juno Award-winning opera singer Isabel Bayrakdarian and Laurier's own quartet-in-residence, the Penderecki String Quartet. See photos from this exciting event online.
---
You can help make space for music at Laurier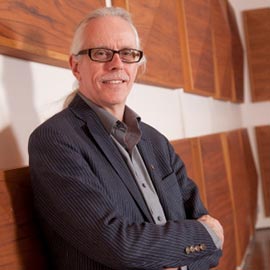 "In these complex times, music is a social and cultural catalyst for communities worldwide. Laurier is a vital partner in the local, national and international musical community. We urgently need to re-design our facility so that it truly reflects and supports the tremendous musical talent at Laurier. Your support is critical to our success."
– Dr. Glen Carruthers, Dean, Faculty of Music.
I Love Laurier Because...
"I love Laurier because it gives me the opportunity to study in various areas like performance or education. I have the tools here to really find out what field of music I would best fit in and to explore the multiple opportunities to put my instrument to use. For voice, there are many opportunities like student recitals, singing gigs and choral scholarships, and even the chance to audition for the yearly opera productions!
Most importantly I love the friendly faces I see everyday and the professors here care about your success."
– Hannah, second-year Faculty of Music student.
Our Making Space for Music Giving Day was a huge success. It took place on International Music Day (October 1, 2019) and included pop-up performances from talented music students across our Waterloo Campus plus an online campaign. 230 donors came together to raise more than $175,000, including our donor matching funds, in a single day, for the Faculty of Music. A big thank you to our student performers and generous donors!
Making a lasting impact
Naming opportunities include the lobby, amphitheatre, new practice wing, studios and pianos. To learn more about these and other naming opportunities, please contact Kathryn Jeffrey, Associate Director, Development, Faculty of Music.