Levene family gift names the Leejay Julius Levene Practice Studio
Local philanthropists and community builders Ron and Shirley Levene have made a generous gift to the Making Space for Music Campaign to name the Leejay Julius Levene Practice Studio in memory of their son Leejay, who passed away tragically in 2007 at the age of 18.
"He really loved music, and he played the clarinet and the bass guitar," says Ron about Leejay. "We thought this would be a good way for people to remember him, and to support the arts community in Waterloo, where he was born and raised."
Ron and Shirley knew that the Making Space for Music project "would be a good fit for us from the get-go," as Shirley says.
The Levenes' relationship with Laurier's Faculty of Music was fostered by Dr. Glen Carruthers, former dean of the Faculty of Music, who retired in the fall, and passed away on Dec. 24, 2020.
First introduced through a mutual friend whose son had just entered the Music program at Laurier, Shirley and Ron hit it off with Glen immediately. "Right away, we felt like we had known him for years," says Shirley.
"We would sit with Glen, and we would examine floorplans, maps, and talk about the future Faculty of Music building. He would give us copies of the floor plans to take home so that we could choose which room to name after Leejay," she adds.
For Ron and Shirley, supporting the community in Waterloo Region is something that comes naturally. While the couple met in Montreal, they moved back to Ron's hometown of Kitchener in the 80s to settle down and raise their three sons Casey, Leejay and Elli.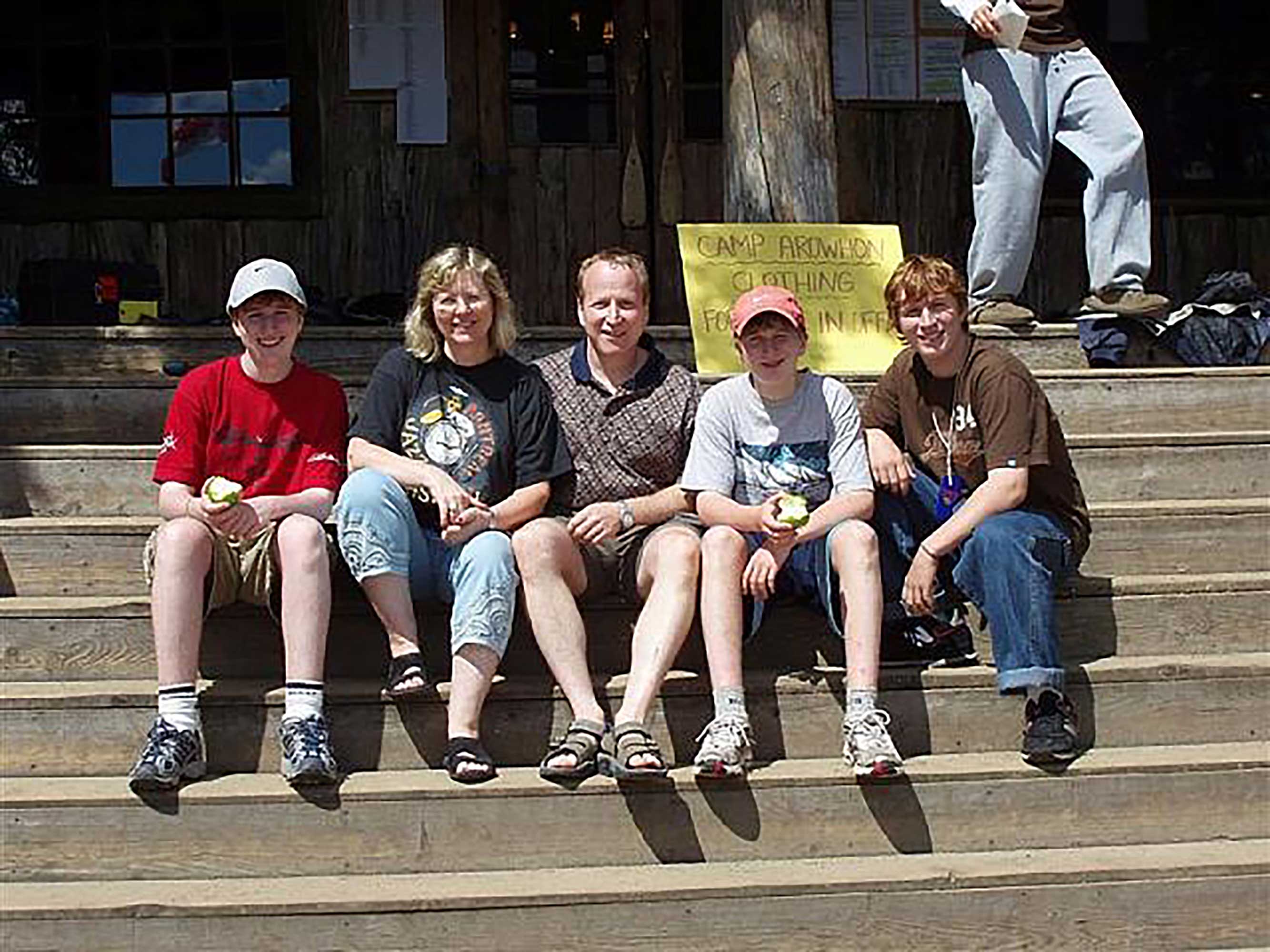 "When we moved here about 35 years ago, it took me a while to get used to living in a small city," Shirley says. "But I put my whole heart and soul into our community here, and that's what makes me happy. It's therapeutic for me to give back, and to remember Leejay every single day. Deep down, I'm a very big community supporter."
Shirley especially appreciates the collaborative spirit between charities in Waterloo Region. "Everything is like a basket-weave," she says. "I like the fact that charities support other charities here."
Every year, the Levene family produces a calendar featuring artwork created or inspired by Leejay. The proceeds go to partner organizations making a difference in the community, such as the Kitchener Public Library, the Gies Family Centre in North Waterloo, Community Support Connections Meals on Wheels, Waterloo Crime Stoppers, and the Juvenile Diabetes Research Foundation, to name a few.
"It gives us a sense of ownership," says Ron. "We take a lot of pride in our community. It's exciting to see when students come from abroad, how much respect they have for Waterloo and for Laurier, for its Music programs. It's one of the top music schools in Canada, so we're just anxious to see this project go ahead. It's very positive for our community, for the city, for all the students."
"This was Glen's baby, his project," Shirley adds.
The Leejay Julius Levene Practice Studio will be prominently placed in the new Savvas Chamberlain Music Building, accompanied by a plaque with a photo and story provided by the Levene family. The Making Space for Music campaign aims to raise $15 million to renovate and expand Laurier's Waterloo campus Faculty of Music building, transforming it into an improved space for teaching, practising, rehearsing and performing.