A dream made possible

Celebrating Indigenous students on Laurier's Brantford campus
Named for 18th-century Mohawk leader Joseph Brant, the city of Brantford is located on the Haldimand Tract, which was reserved for the Iroquois (Six Nations of the Grand River) in the Haldimand Treaty of 1784, as compensation for their allyship with the British in the American Revolutionary War of Independence and for the loss of their traditional lands in Upstate New York as a result of this allegiance.
Today, Brantford has a large urban Indigenous population, and Laurier's Brantford campus is located a 15-minute drive from the Six Nations of the Grand River and Mississaugas of the Credit First Nation. Led by the Office of Indigenous Initiatives, Laurier has been working toward the goal of Indigenization, a term that reflects the incorporation of Indigenous knowledge into the daily life of the university. The Indigenous Student Centres in Waterloo and Brantford are committed to fostering a positive student experience for Indigenous students: First Nation (status and non-status), Inuit and Métis persons.
Eric Grundy grew up in Brantford, and maintains strong ties to the community. Recognizing the value of Laurier's transformative presence in Brantford's downtown core, Valerie and Eric Grundy saw that supporting Laurier students would in turn foster strong community support within the city and within Six Nations and commited their support personally.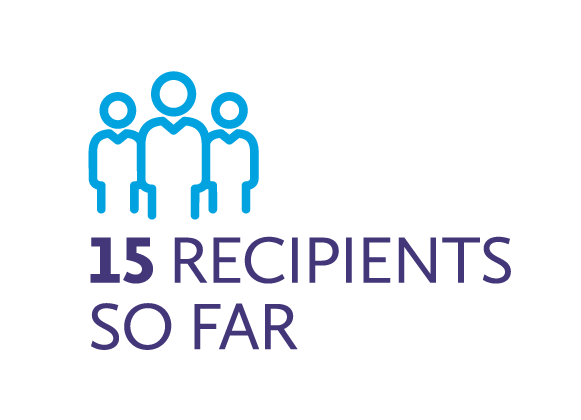 In 2016, Eric and Valerie established the Grundy Scholarship recognizing the invaluable contribution of Indigenous people in the history of the community, while supporting Laurier students who are registered at the Laurier Brantford campus and who identify as Indigenous. The scholarship is granted to the candidate meeting all academic program requirements with significant extra-curricular involvement or volunteer work on campus or in the local community. To date, the scholarship has been awarded to 15 students totaling $37,500 in grants.
In 2019, Eric and Valerie further demonstrated their commitment in support of Indigenous students with a major contribution of $200,000 for a new Indigenous Student Centre located within Laurier's Brantford campus. This new centre will support all students, providing programming and designed to promote intercultural connections, learning, and allyship.
"At Laurier's Office of Indigenous Initiatives, we believe that a welcoming educational environment that honours and respects Indigenous people is the path for students to be all that that they can be," says Melissa Ireland, Director and Interim Senior Advisor of Indigenous Initiatives. "Thanks to support from our donors, we're able to help Indigenous students navigate the university system and provide individualized support where needed."
'Without this generous donation, continuing my studies at Laurier would not be possible.'
Kristina Austin is a student in the Bachelor of Arts Criminology Program and a past recipient of the Grundy scholarship
I am the first person in my immediate family to attend university and I am taking Criminology and Indigenous Studies courses. I have been involved at school in LB Singers for the last two years and this year I am the secretary-treasurer for the Indigenous Students' Association. I also sang a Mohawk song at the MMIWG Red Dress event held at Laurier on October 4.
During the last two summers I volunteered at the Six Nations Community Food Bank assisting in preparing the food boxes for families in need. Last November I completed 35 hours of volunteer training for Six Nations Justice Department's Indigenous Victim Services and in October of this year I facilitated a training workshop on Woman Abuse for new volunteers for this valuable program. I have been a volunteer director for Brant County Community Policing for five and a half years and the last three years in the executive position of secretary-treasurer. I also type the minutes for the Joint Community Policing meetings and take part in Lock It or Lose It campaigns with the Brant OPP detachment.
I am in my final year and the plan is to graduate in June 2020. Upon graduation, I hope to work in the criminal justice field in a civilian position preferably assisting Indigenous people.
The Grundy Scholarship is greatly appreciated as it literally provides the funds to assist me in paying tuition fees for the winter term. Without this generous donation, continuing my studies at Laurier would not be possible.
A donation such as this makes the dream of a post-secondary education possible for people like me, a single parent of two children with one on the Autism spectrum. Again thank you so much for your support.